Human Factors Design Standard
HF-STD-001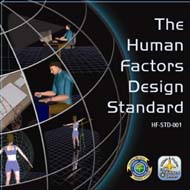 The Human Factors Design Standard (HFDS) is an important work in the field of human factors. It is an exhaustive compilation of human factors practices and principles integral to the procurement, design, development, and testing of FAA systems, facilities, and equipment.
The purpose of the HFDS is to provide a single easy-to-use source of human factors design criteria, oriented to the needs of the FAA mission and systems. An additional goal is to facilitate use of appropriate design criteria by organizing the document so that users can easily locate the needed information.
The HFDS replaces and expands upon the Human Factors Design Guide (HFDG) published in 1996 and all HFDG chapter updates. The HFDS broadens the focus to include both air traffic and technical operations systems and has been modified into a set of standards instead of a set of guidelines, providing a common source of FAA-specific design requirements. The resulting set of standards can be tailored to meet the needs of the system or program at hand.
You must have Adobe Reader® installed to use the HFDS.
APA Reference
Ahlstrom, V., & Longo, K. (2003). Human Factors Design Standard (HF-STD-001). Atlantic City International Airport, NJ: Federal Aviation Administration William J. Hughes Technical Center.
Contact
Vicki Ahlstrom
Federal Aviation Administration
William J. Hughes Technical Center, Building 28
Atlantic City International Airport, NJ 08405
Phone:(609) 485-5643
Fax: (609) 485-6218
Vicki.Ahlstrom@faa.gov